10 Best Funfetti Cake Recipe to Try in 2020
This post may contain affiliate links, which gives me a small percentage of the sale, at no cost to you.Please read Disclaimer for more information.
Hello readers and cake lovers, How are you doing?. Every time we came up with some interesting and delicious recipes, so today we have something new to share with you. If you are feeling bored and want to do something yummy to get rid of boring moments then you came to the right place.
In this post, we are going to share some of the best cake recipes. You can try to bake this cake at home with the help of some easy homemade cake recipes. You can choose the best recipe that will suit your taste as we are combining the top 10 funfetti cake recipes in a single post.
Funfetti can be used on any occasion but especially on birthday parties. So first of all let's see what is a funfetti cake and how many flavors and varieties we have.
What is Funfetti Cake?
Funfetti cake is commonly known as a moist vanilla cake. It comes up with colorful sprinkles that would be folded into the batter, and it can be baked into the layers. The sprinkles help in the designing and decoration of the cake so that it will look amazing.
This cake is yummy vanilla cake and it also can be a cupcake but in this post, we will just share large size cakes with brightly colored sprinkles mixed in it.
Varieties In Funfetti Cake
There are varieties of Funfetti cake-like gluten-free funfetti cakes, funfrtti cakes with fluffy vanilla, funfetti cakes with rainbow sprinkles, soft and moist cake, vegan funfetti cake, etc.
In this post, we are coming with the top and best 10 funfetti cake recipes.
Tips to Get Accurate Results
Natural sprinkles aren't bright enough so the best and brightest results came from artificially colored sprinkles. Try artificially colored nonpareils and artificially colored homemade sprinkles. It is just a recommendation but you can use any of available sprinkles.
The batter you will use needs to be thick enough to suspend the sprinkles because we don't want all of them to fall into the bottom when the cake is baking. So keep in mind this tip while making this cake.
You can use French-style buttercream or American-style buttercream as you want. But remember American-style buttercream is time-saving as it has just four ingredients. You can also go for Italian buttercream too as per your taste and time.
Measure your flour correctly! This is something you probably see in most recipes. Because adding too much flour to the recipe is the most common mistake while baking cakes. You can use a scale for measuring the flour correctly and it is the best and easy way to measure.
List of top 10 best funfetti cake recipes
After doing best of research for best funfetti cakes, here we are gathering best top 10 funfetti cakes recipes for you. We have selected easy to make and yummy funfetti cake recipes for you with multiple options so that you can pick any of them you want.
Here the List Goes
Funfetti Cake Recipe: Easy Recipe Made From Scratch - Chelsweets
This amazing funfetti cake recipe is made from scratch, and is so easy to make. It's moist, and packed with flavor and sprinkles!!
Check out this recipe
Funfetti Layer Cake | Sally's Baking Addiction
No celebration is complete without a funfetti layer cake! Learn how to make it completely from scratch using this detailed homemade recipe.
Check out this recipe
The Best Funfetti Cake - Pretty. Simple. Sweet.
Learn how to make this amazing homemade funfetti cake from scratch. It's moist, fluffy and dotted with sprinkles, perfect for birthdays!
Check out this recipe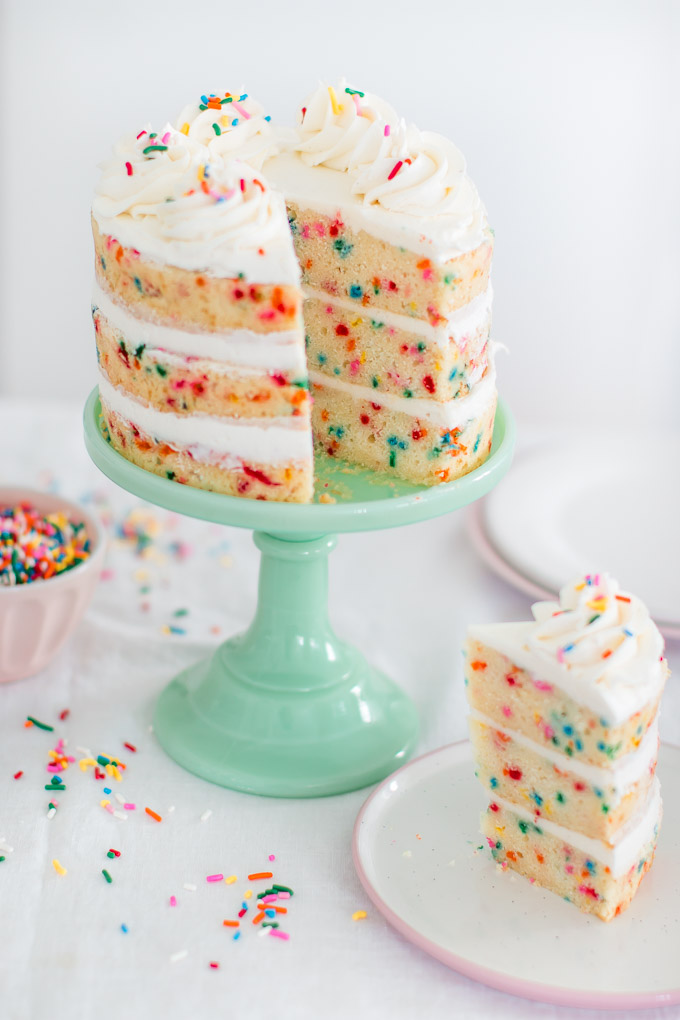 Funfetti Cake - Preppy Kitchen
A moist and delightful vanilla funfetti cake filled with cheerful sprinkles, coated in creamy Italian buttercream and topped with a white chocolate ganache.
Check out this recipe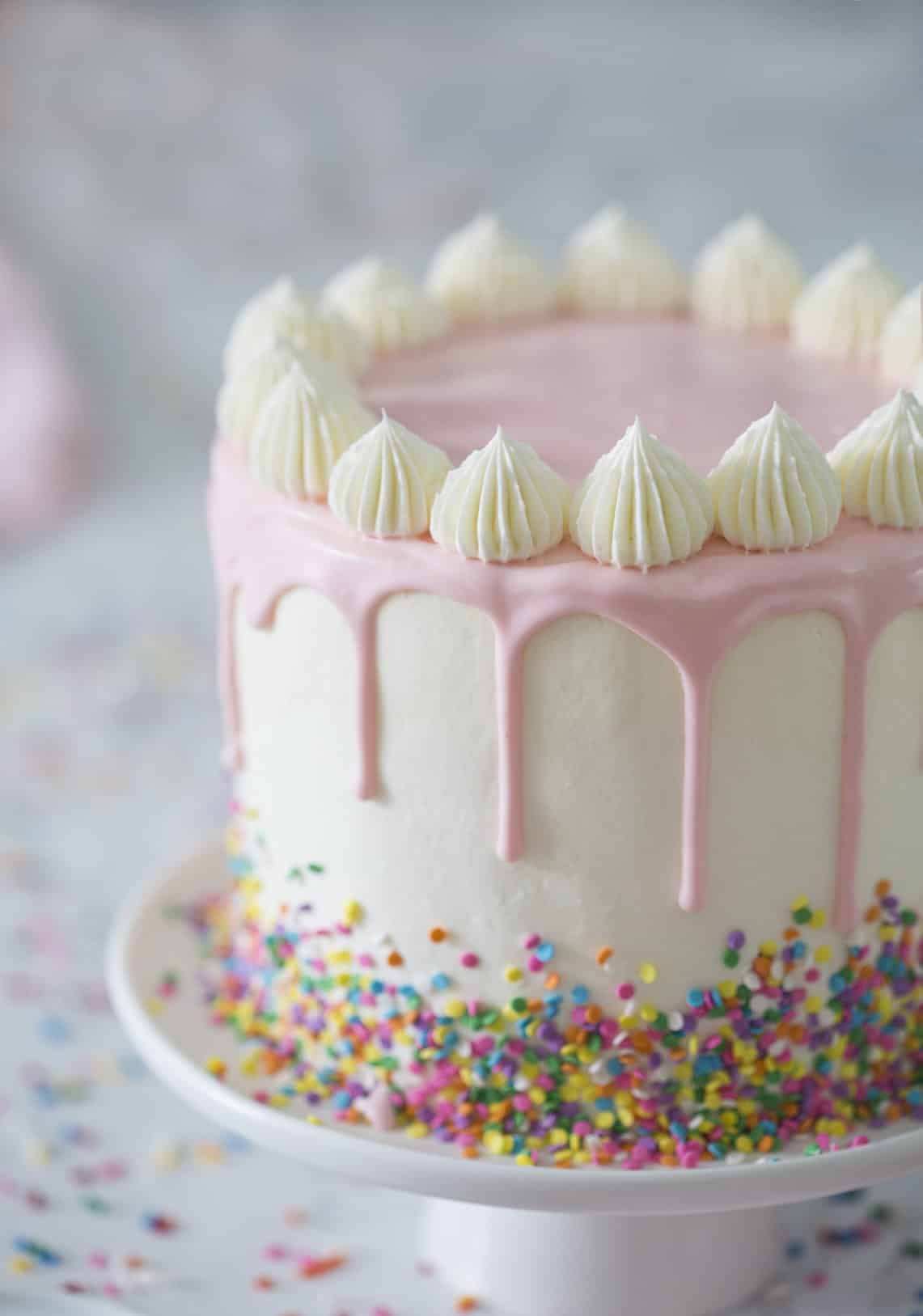 Get Festive With This Dreamy Birthday Cake
Upgrade your birthday celebrations with this light and fluffy funfetti cake recipe. You'll want to make this homemade cake even after your birthday ends.
Check out this recipe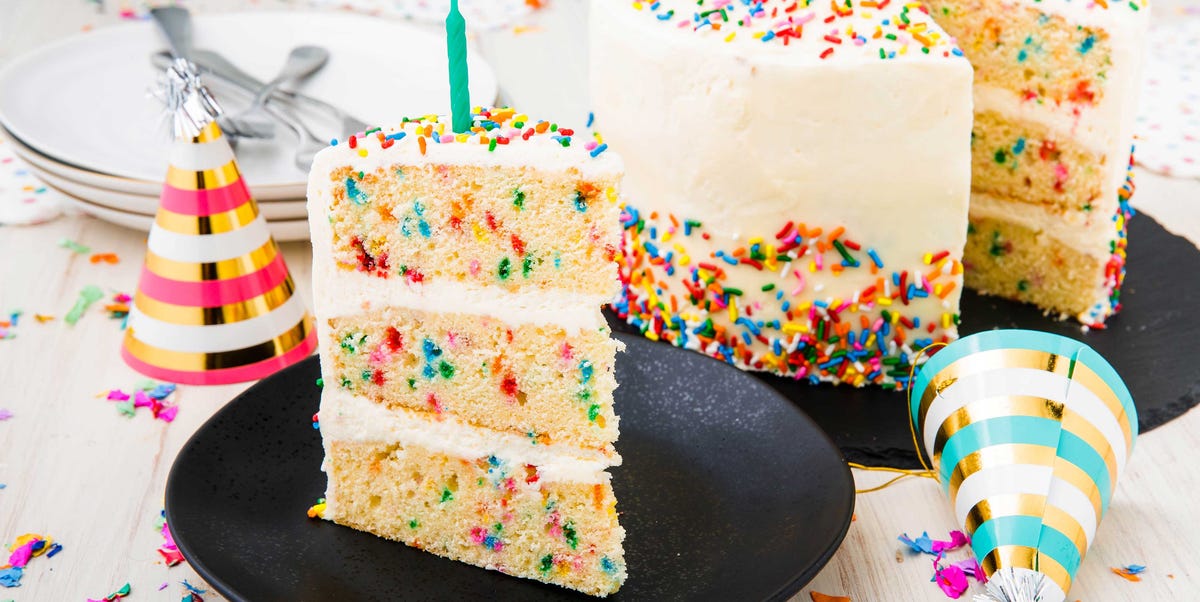 The Ultimate Funfetti Cake Recipe by Tasty
Here's what you need: nonstick cooking spray, buttermilk, vanilla extract, vegetable oil, all purpose flour, baking powder, kosher salt, baking soda, granulated sugar, light brown sugar, unsalted butter, large eggs, large egg yolks, rainbow sprinkles, unsalted butter, cream cheese, kosher salt, powd…
Check out this recipe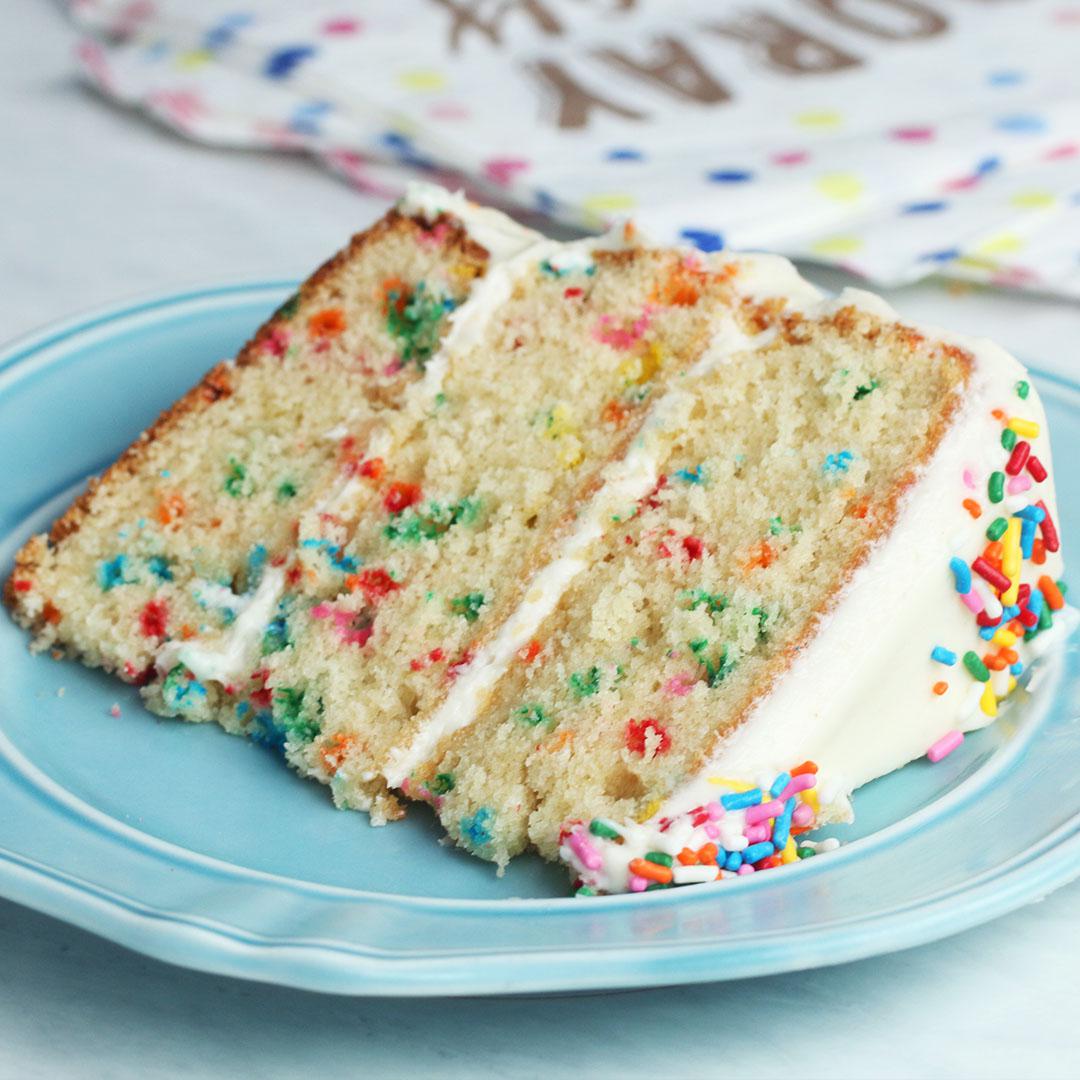 Funfetti Cake - Wood & Spoon
Happy birthday to… ME! Is it obnoxious to celebrate one's own birthday? Would it be narcissistic of me to think you're all dying to participate in the fun that is this funfetti cake? Maybe, but I don't even care. I love birthdays, and as a baking blogger, there are very few things that excite me … F…
Check out this recipe
Homemade Funfetti Cake Recipe
White layer funfetti cake with colorful sprinkles and vanilla buttercream frosting. This is the perfect cake for any celebration! Try funfetti for your next birthday celebration. Kids love confetti cake!
Check out this recipe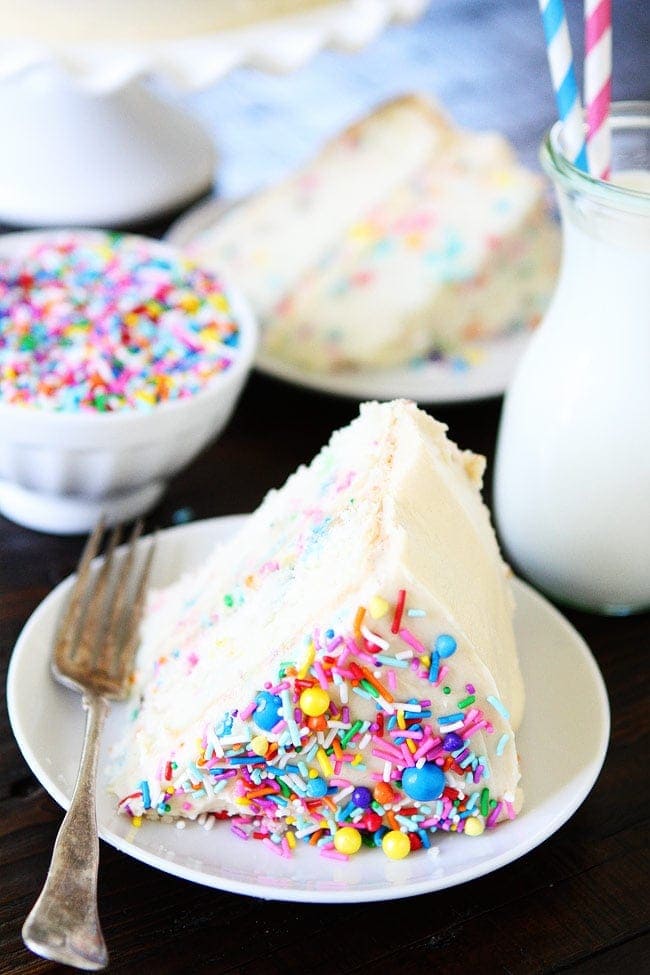 Vegan Gluten-Free Funfetti Birthday Cake
Vegan Gluten-Free Funfetti Birthday Cake. Just 8 ingredients, 1 bowl and oil-free! It is sweet, moist, light, fluffy and kids and adults both love it!
Check out this recipe
Funfetti Cake | Liv for Cake
This sprinkle studded Funfetti Cake is paired with a fluffy cream cheese frosting and topped with a rich dark chocolate ganache.
Check out this recipe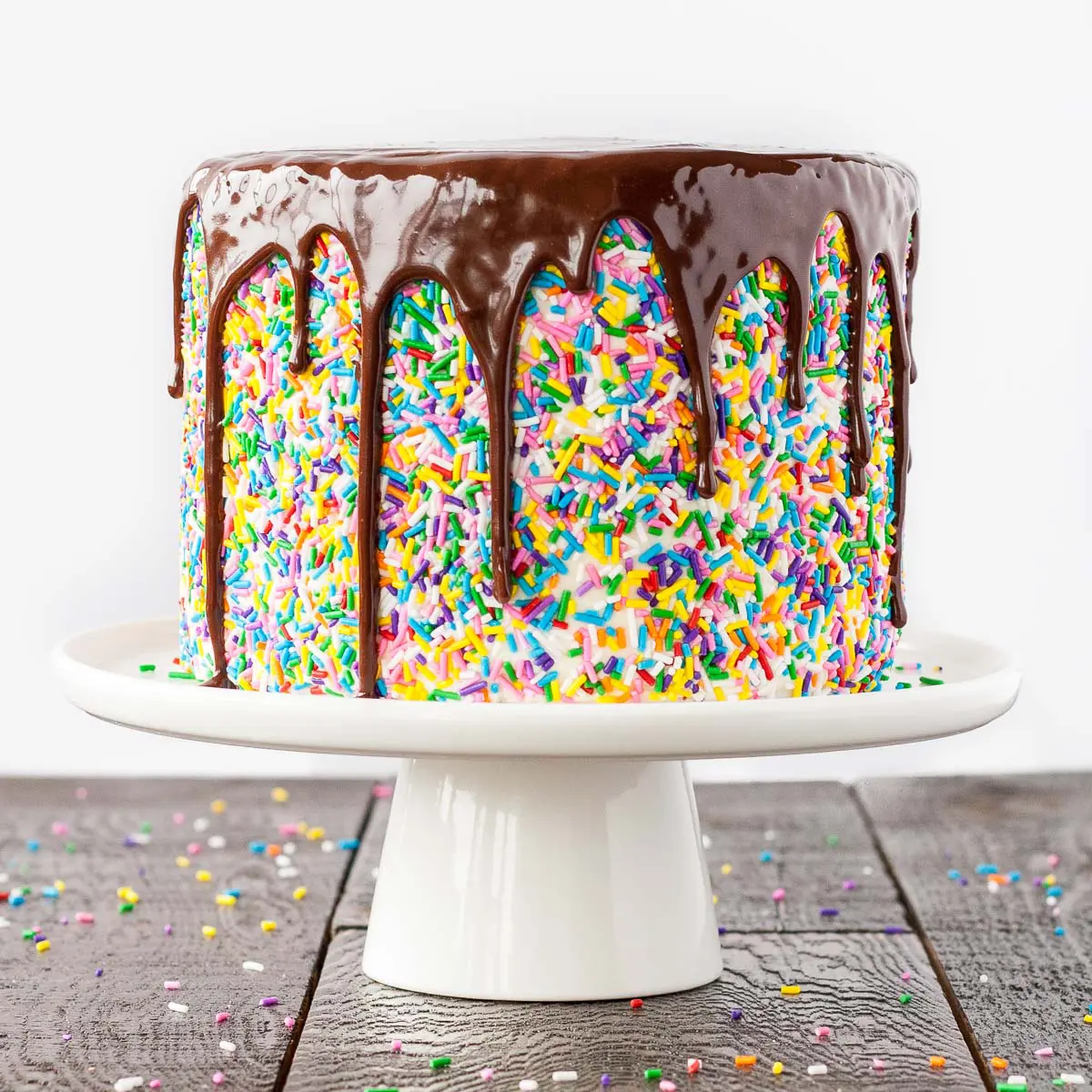 Love those recipes? You might like this!
---
---